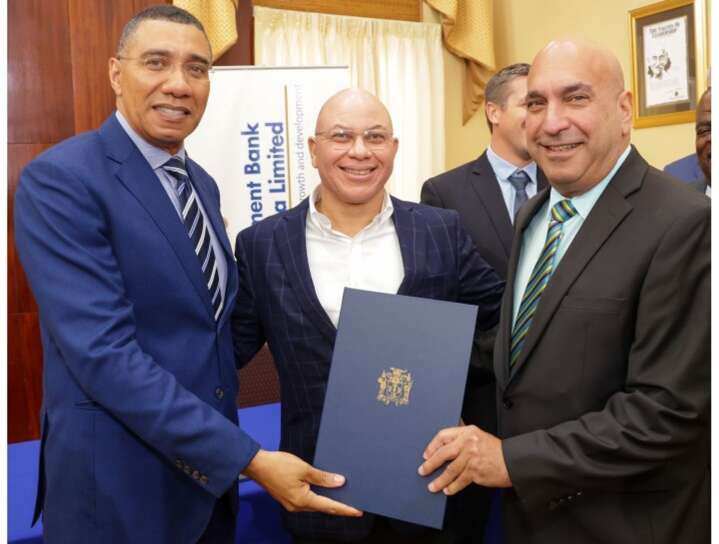 THE Government of Jamaica has forged a multi-billion-dollar partnership with the private sector to ensure that by 2025 the Kingston Metropolitan Area never runs out of water, even during a drought.
At Jamaica House on Wednesday Prime Minister Andrew Holness hosted heads of banks, such as Sagicor and the Development Bank of Jamica (DBJ); important members of the the private sector; and the National Water Commission (NWC) to sign a contract worth US$77 million.
"To reduce the shortfall between demand and supply of water in the Kingston Metropolitan area, in the medium term, the NWC has, therefore, entered into a public-private partnership arrangement to design, build, finance, operate, maintain, and transfer a 15-million gallons per day water treatment plant in Content, St Catherine. The construction is expected to be complete in two years and is expected to positively impact approximately 150,000 customers in Kingston, Portmore, and Spanish Town.
"It will reduce the need for people trucking water and reduce, if not eliminate, the need for water restrictions during periods of drought. This project is the building of resilience in water supply. That means that, even if there is a shock, we should be able to maintain a required level of supply to this critical productive area of Jamaica. I thank all of who made this possible: the Ministry of Economic Growth and Job Creation, the NWC, Vinci Construction Grand Projects, Eppley, Jamaica Producers, the DBJ, and Sagicor," said Holness.
Construction of the plant will be followed by a 23-year period of operation by the private partners. After the 23 years elapse, ownership of the plant will be transferred to NWC.
Holness added: "This new plant will be the second-largest plant in Jamaica. The largest is the Constant Spring Water Treatment Plant. This tells you that we really have not been making investments in water over these many years. There has been significant disinvestment in water and we have to move very quickly to catch up."
Meanwhile, Christopher Zacca, president and chief executive officer of Sagicor Jamaica Limited, the lead financier on the project, said he was delighted about the partnership.
"Sagicor Jamaica is pleased to be contributing to this initiative. Sagicor Bank and Sagicor Investments are funding debt to the tune of US$28 million, which is $4.3 billion, of which $2 billion is a loan from Sagicor Bank to the project."
https://www.jamaicaobserver.com/news/multi-billion-dollar-water-project-to-fix-supply-issues-in-kingston-metropolitan-area/